Option #1. Creating new users together with Exchange mailboxes
To create new mailboxes, log in to CONTROL PANEL > Manage Services > Email > MS Exchange 2016 > Services > Mailboxes. Click on Create User.
To create a single mailbox:
Tick the boxes next to the services you would like to enable for a user.
Note: it is possible to create users without any services turned on, you can turn them on later.
Specify the display name that you would like to use. The display name normally consists of the user's first and last name.
Review the first part of the email address - it will be filled out automatically - and change it if needed.
Select the desired domain name from the drop-down list next to the email address field. If you do not see the desired domain name there, it means it has not been added yet to the domain list on the account. Click on Add domain next to the domain drop-down list and it will re-direct you to the page where you can manage your domain names.
Read the Knowledge Base article on How Do I Add A Domain To My Exchange Account? for more information.
Note: having added a new domain, you will have to start the mailbox creation procedure over again from scratch.
If needed, change the email address that the password for the new mailbox will be sent to.
Click Create.
Note: you can also create a new user by copying the set of settings from an existing user.
To do it this way, go to Services > Mailboxes > click on the little arrow next to Create User and choose Copy from existing user: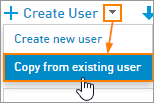 Then choose the existing user you would like to copy from and click Select.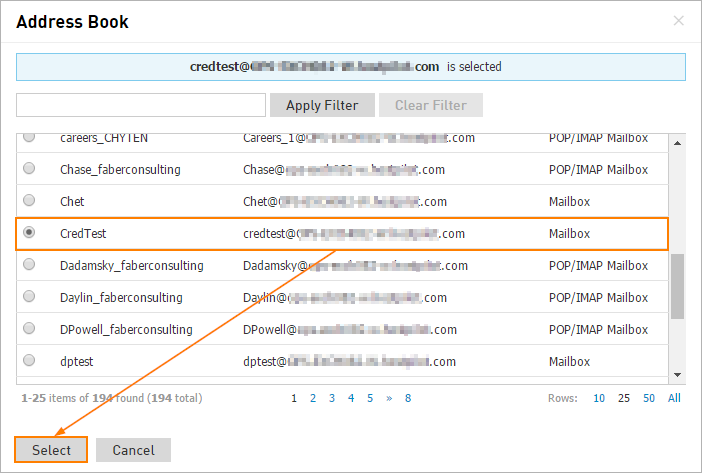 he following properties will be copied:
Services enabled for an existing user
Distribution Lists Membership
Organizational Unit
You will only need to specify the Display Name, Email Address, and Password for a new user.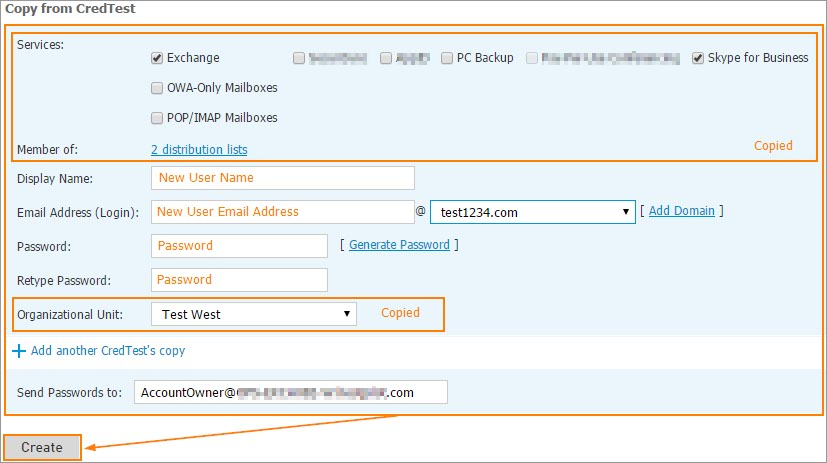 Important: My Services User permissions will not be copied from an existing user. You will need to specify them after the user has been created.
To create multiple mailboxes at once:
To create multiple mailboxes at once, use either of the following options:
When creating a single user, click on Add another user before hitting Create and fill out all the appropriate fields.
Create mailboxes from a TXT file using our Mass User Import Tool.
Option #2. Enabling Exchange for an existing user
As it is possible to create users without any services turned on, it is also possible to add such services as an Exchange mailbox afterwards. To view a list of the existing users and services that they have enabled, go to CONTROL PANEL > Users. While normally users are createdautomatically when a mailbox is created for them, sometimes you may need to create a user without an Exchange mailbox and enable this service later.
To enable Exchange for an existing user:
Navigate to Services > Mailboxes.
Click Display all users.
Check the box next to the user in question under the Exchange Mailbox column.
Note: if the user's domain name is not registered on the account, you will be prompted to change the user's current email address to the new one that would have

one of the domains registered on the account as its part

. Update the email address and click Ok.
Click Proceed and then Confirm to save the changes.
Managing passwords
There are several important notes on managing passwords:
When creating new users, you can either generate a new mailbox password for them or create your own. If you choose the latter, make sure that it meets the general complexity requirements. Read the Knowledge Base article on End Users Password Requirements for more information.
All passwords are sent to the account administrator's email address together with a notification about the new mailbox creation. By default, this address is set to the contact email on the account, but it is possible to change this email address to another one when creating a new user.