Update Dell Server Firmware via Life Cycle Controller
To set up the Network, go to Settings from the main menu, and select Network settings so network can be setup/configured.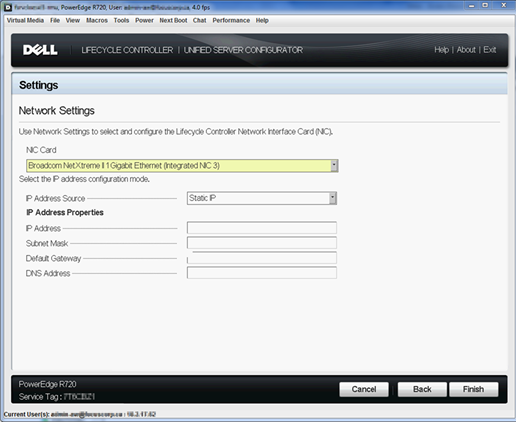 To update the firmware using the Lifecycle Controller:
Start Lifecycle Controller by pressing <F10> at system start.
In the left pane, click 'Firmware Update'
In the right pane, click 'Launch Firmware Update'
Select any one of these repositories that are suitable for you:

FTP Server
Local Drive (CD, DVD, or USB)
Network Share (CIFS, NFS, or HTTP)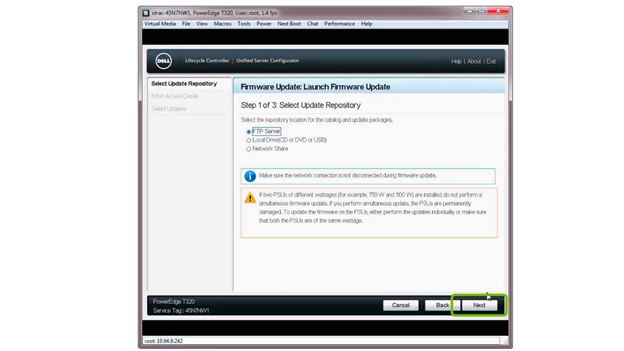 Click 'Next'.
You are now at the "Enter Access Details" page
Enter the FTP address, for example:'dell.com'
* There is no need to enter credentials
The 'Select Updates' page is now displayed showing the updates that are available.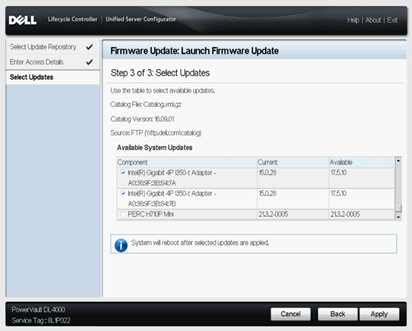 Select the components that you want to update, and then click 'Apply'.
The update process is initiated and the firmware update is completed.
Afterward restart the system.