The Hostway cloud management portal provides a single place to effectively manage your multi-cloud deployments in addition to your Hostway infrastructure. The Hostway Management Portal is an interactive tracking and monitoring application that combines service aggregation, cost management, role-based access control and support tracking to simplify and optimize the experience for all your hosted cloud environments, and Hostway services.
The Hostway Management Portal dashboard helps our customers easily navigate their dedicated and public cloud resources within Hostway. And with an intuitive design, powerful reporting, enhanced security and user management customers can manage every aspect of their Hostway account with just a few clicks.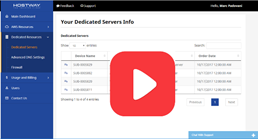 Access all the benefits of your Management Portal today:
Easy Billing and Cost Optimization: Our customers need to know how they're being billed. With our new and easy to understand billing, Hostway customers will get a clean, clear and accurate invoice, every time. An accurate and easy to understand invoice means less calls to the Hostway support center and happier customers. And as always, our customers will always have access to their Hostway account team for cost optimization strategies to ensure application deployment in the right and efficient environment.
Better Insights and Control: With our powerful dashboard Hostway customers have quick access to critical service detail across all of their hosted environments. With one-click access to dedicated and public cloud environments customers can grant or restrict access to critical security controls by user, submit and track support tickets by environment and monitor performance across every environment.

Enhanced Security: Hostway remains the Gold Standard in security for all things cloud. This dedication to security is especially important when it comes to our customers and their data. The Hostway Management Portal was built on a highly secure platform that can only be accessed through secure HTTPS which means all data transmission between our customers and Hostway remains secure and encrypted.
To access the Hostway Customer Management Portal, please visit https://manage.hostway.com