Make sure that you have ConfigServer Firewall (CSF) installed on your Cpanel server, and you have access to WebHost Manager (WHM).
In WebHost Manager, locate and select ConfigServer Security & Firewall under the Plugins section in the left menu. You also can begin typing "configserver" into the search field at the top left to narrow down the options.
Click on the Firewall Configuration button to open the configuration file.

Deny access by Country Code. On the Firewall Configuration page, scroll down to the Country Code Lists and Settings

Use the CC_DENY field to block by country code:
The CC_DENY field accepts two-letter country codes, such as "US" for the United States of America, "GB" for Great Britain, and "DE" for Germany.
Multiple countries can be comma separated with no spaces in between, such as "US,GB,DE" to deny access to the US, Great Britain, and Germany.
You may find a list of ISO 3166-1 alpha-2 codes at https://en.wikipedia.org/wiki/ISO_3166-1_alpha-2
Scroll to the bottom of the Firewall Configuration page and click on the Change.
On the next screen, click the Restart csf+lfd button to restart the firewall with the new settings.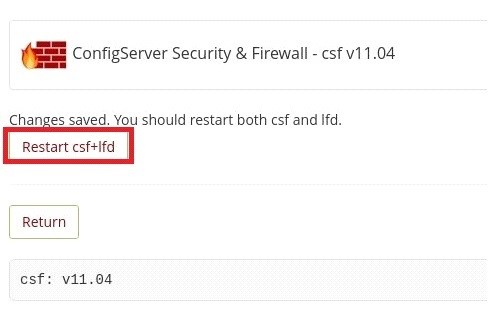 NOTE: CSF does not recommend the use of country-level blocks on any VPS or small server unless the CIDR range for the chosen country is very small.The use of a large-range country block on a small server or VPS could slow the server to the point that it becomes inaccessible.