The Auto-renew feature, if activated, will automatically renew your domain name 15 days before its expiration date. To use the auto-renew feature, either your default payment method must be set to Credit Card (recommended), Direct Debit or one-time payment for the renewal fee must be processed in advance. If your domain is set to auto-renew, then your account will be charged the current 1 year renewal price for the domain name.

I. How to enable the auto-renewal option?

1. Log into SiteControl with your username and password.
2. Click on the Domain Name link (under Manage Services) from the Home page.





3. Click on Edit for the appropriate Domain Name.





4. Find the Domain Auto-Renew: field and click on Edit.




5. Under the Edit Auto-Renew settings find the Domain Auto-Renew: option and choose to switch it
On (Enables Auto-renewal) or Off (Disables Auto-renewal).

a) If you select Off the Domain Auto-Renewal will be disabled.
b) If you select On you can choose the Auto-Renew Term: from within the drop-down menu.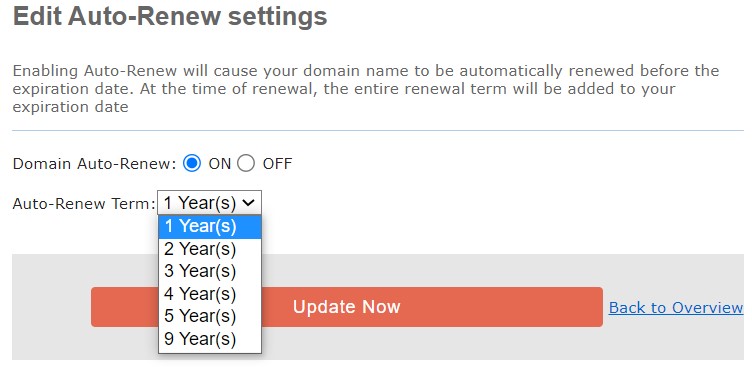 6. Once you have selected the Auto-Renew Term click on the Update Now button.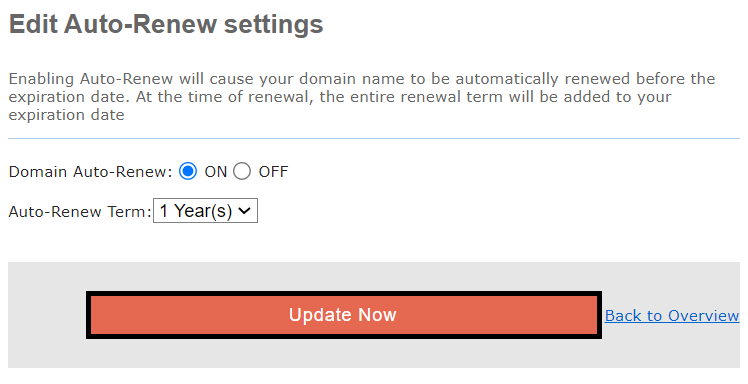 Important Note: Even though your domain name is scheduled for auto-renewal and you receive AutoRenew notification emails, you won't see an outstanding balance under your account for the domain renewal fee in advance. Fifteen days prior the domain expiration date our billing system will try to process a payment and renew your domain. Keep in mind that if the payment is not successful, the auto-renewal will fail and it will be automatically disabled by the system. In this case, you need to set a new valid default payment method and then to manually renew your domain name via SiteControl.


If you are looking for an article on how to renew your domain name, click here.